Whether your company  is completely new to the social media scene, or you simply want someone in your corner that's been to the party before, we're ready to take the reigns on your accounts and execute a successful social media strategy based upon your industry and your company specific goals.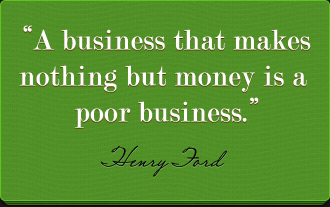 We Help Create, Grow and Maintain Online Relationships With Your Clients.
We know and understand the importance of building relationships with your customers instead of broadcasting a marketing message. So many businesses get Social Media wrong and think that the potential is in blasting marketing messages to your customers, but the reality is that the power is in building sustainable relationships and truly caring about your customers and the quality of product/service you're selling.
The 10 word-quote on the left by Henry Ford is all you need to know about building a successful business.
We Seek Relevant Content & Monitor Your Brand.
Above and beyond merely posting updates and tweets, we handle all the legwork in finding relevant news and information directly associated with your industry to share so that you never miss a beat and your audience is well aware that you're staying on top of your game.
We also monitor your chosen networks for any mentions and make sure we're jumping in conversations with anyone talking about your brand – good or bad. If for whatever reason, someone is speaking negatively about your business, we step in and offer top-notch customer service and make sure it's clear that we're willing to do whatever it takes to make it right – and ultimately win that customer back.
We Tell Your Story & Create Transparency.
Every organization has a different story on how they got to where they are today, but the importance of highlighting the people that helped get you there never changes. There are a number of areas focused around your business that can be utilized when posting, we'll ensure you stay vibrant and never have to worry about the 'same old'.
Timing is Everything.
In addition to providing suggestions on content and managing networks that are in your businesses best interests, timing is everything. We send messages at only the most optimal times to make sure that your message is being heard by as many of your connections as possible.
We're an Extension of Your Company
We're able to jump in the driver's seat and be the voice for your company through the select social networks, taking the lead on posting, engaging followers and growing your overall reach. This allows managers to focus their time on keeping business coming through the door and another stream of contact with current and potential customers. We can also work directly with your internal staff and share responsibilities in a partial management role if that works better for your company and your bottom line. We make sure we're both on the same page so your message remains clear and consistent.
Monthly Reporting
No matter the role we play, we always provide a monthly report to give you quantifiable metrics that help you see the type of growth your account(s) achieved over the previous month. In addition to metrics, our monthly social reports include recommendations on how we can improve as well as notification of new features that were released for any networks we're taking part in and how we can potentially utilize those within our social media mix.